Anne Lough ~ autoharp, guitar, hammered and mountain dulcimer artist; vocalist, storyteller, folk dance instructor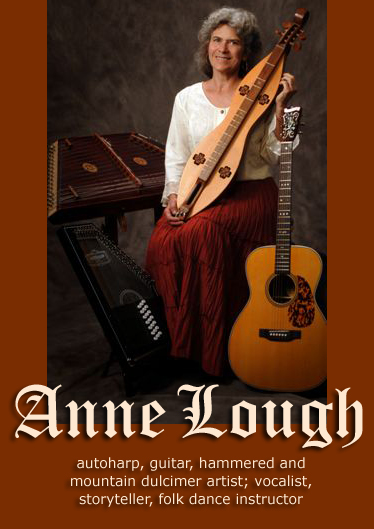 Anne Lough graces any musical event, festival or school with the finest of dulcimer music, song, story and dance. Her mastery of the hammered and mountain dulcimer is impressive and she brings integrity, beauty and inspiration to every performance and educational venue.
FESTIVALS
COMMUNITY CONCERTS
FOLK CLUBS
WORKSHOPS
LIBRARIES
STATE PARKS & HISTORIC SITES
PUBLIC RADIO
SCHOOLS
IN-SERVICES
UNIVERSITIES
CHURCHES
WEDDINGS
ROAD SCHOLAR
Virtual Tip Jar:
Make a tip by clicking the PayPal icon to the left.
"Anne Lough is a stunning, accomplished musician with an impressive range of musical achievements. Her artistry is poignant, lyrical and always in the best of style."

-Roger Reichmuth, Chairman, (Retired) Music Department
Murray State University, Murray Ky.