Anne Lough ~ autoharp, guitar, hammered and mountain dulcimer artist; vocalist, storyteller, folk dance instructor
Road Scholar Programs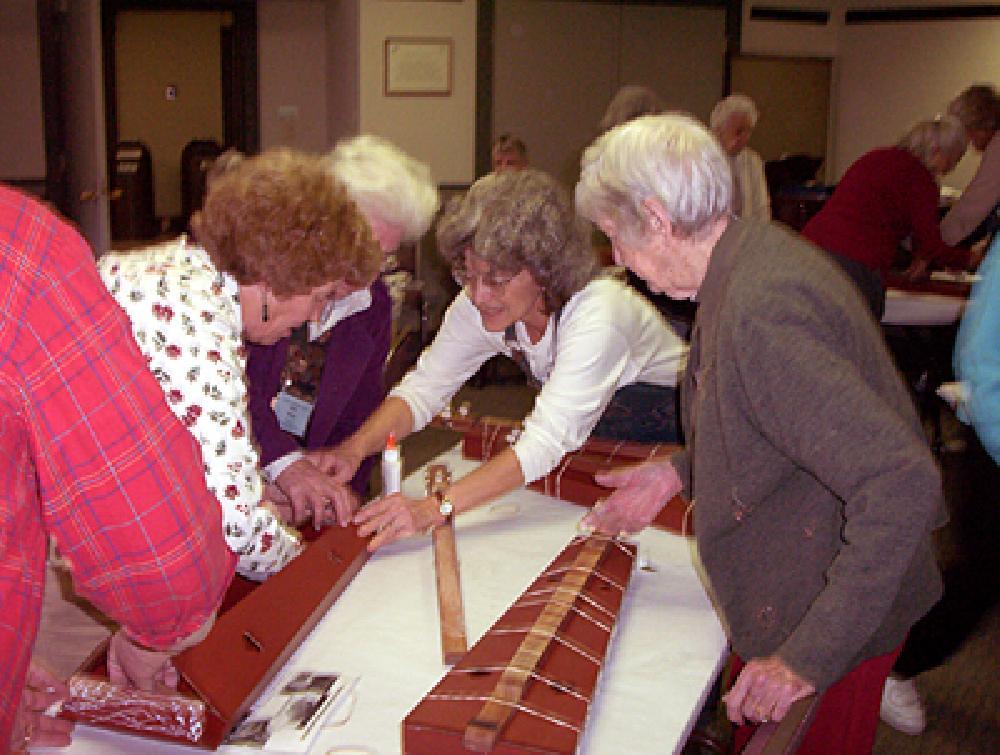 Photo courtesy of Montreat Assembly Elderhostel
Student Evaluations:
"This woman is every superlative that exists. She was well organized, broadly knowledgeable, extremely talented, warm and personable. I was fascinated by her presentation and impressed by her wealth of material and enthusiasm for her subject. She deserves dozens of roses."

"The sweetest, purest voice I've ever heard. Beauty all the way - what a treasure."

"Anne is simply outstanding. She has an exquisite voice and talent."

"One of the most gifted musicians and instructors we have ever encountered - 5 star plus!"

"Of the Road Scholar programs I have heard, I consider this topic and this instructor Par Excellence and the best I have been exposed to. She is very professional, knowledgeable and talented."
| | |
| --- | --- |
| | "Anne is one of our most successful and accepted instructors in our Road Scholar program. She is extremely knowledgeable in the areas of Appalachian traditional music and culture as well as a wonderful entertainer. Her personality, appearance and unique talent make her a master teacher and performer. She is absolutely 'tops'." |
Road Scholar Course Titles
SOUTHERN APPALACHIAN CULTURE IN STORY AND SONG
A survey of the rich tapestry of Southern Appalachian music and its cultural significance. Gain a new appreciation and understanding of the Scots-Irish heritage and traditions as you participate with us in the exploration of ballads, folk songs, the dulcimer, play parties, stories and shaped note singing.

AN APPALACHIAN CHRISTMAS, OLD AND NEW
Enjoy a traditional Southern Appalachian Christmas as you discover the link with ancient Celtic and Norse customs and culture. The story unfolds through a look at the music, customs, stories and folklore of the region.

INTERGENERATIONAL - MOUNTAIN FOLKWAYS
Step back to a quieter and simpler time to experience daily life and home-made recreation of these timeless mountains. Celebrate the rich culture of the Southern Appalachians where song, music, stories and dance were woven into the fabric of everyday work and play. Sing along with the voices of the Scotch Irish pioneers, learn some tunes on the mountain dulcimer and delight in the wonderful stories of Jack and his adventures as well as other classic mountain tales. Enjoy the pleasures of making simple folk toys and the fun of play parties and dancing.

THE APPALACHIAN DULCIMER - SWEET MUSIC OF THE MOUNTAINS
No musical experience is necessary to learn to play this beautiful, soothing Appalachian instrument. Become a part of the Appalachian musical heritage as you enjoy making music in a relaxed, noncompetitive environment and take away the skills necessary to continue to learn, play and enjoy on your own. Loaner instruments will be available.

THE SCOTS-IRISH AND THE PLANTATION OF ULSTER
Were they Scots? Were they Irish? How did they become Scots-Irish and when and why did they "plant" in Ulster? Why did the Scots-Irish leave Ulster and thousands migrate to America throughout the 1700's? Explore this fascinating and relevant history and its cultural impact in America.
CELTIC LEGACY
From ancient times the Celts have given the world an incredible gift of beauty, inspiration and passion for life through their unique art, lively jigs and reels, achingly beautiful airs, historical story cycles, folklore and deep spirituality. Spend a delightful and insightful week exploring each of these contributions and their enduring and endearing legacies to the modern world.

FOLK TRADITIONS OF IRELAND AND THE BRITISH ISLES
Celebrate the life and culture of these island people through their ancient body of folk song, stories and dance traditions. From old ballads and carols, songs of war, sea and pub, the songs of Robert Burns, folk tales and English country dance we'll experience centuries of these timeless traditions.
OUR SONGS, OUR ROOTS, OUR HERITAGE
Take a journey through our country's history by way of our national body of folk song. Discover the history, treasure and significance of our folk music as we hear voices from Colonial times, the fight for independence, the days of exploration, seafaring, logging, the Civil War, railroading and cowboys.

FOLK DANCE FOR FUN
Discover the enjoyment and health benefits of Appalachian squares and circles, contra dance, international folk dance, creative movement and the popular contemporary line dancing. No dance experience necessary, just a sense of fun!

FOLK DANCING THROUGH OUR HISTORY
Enjoy the social folk dancing that has always been a part of our American heritage, from the stately Colonial English Country Dancing, the pioneer Play Parties, the rousing Viginia reel, Circle dances to the Appalachian and Western Squares. Simple, fun and great exercise, there is no experience necessary to enjoy these cultural treasures.

I HEAR AMERICA SINGING
A delightful window into the roots of our American popular song. Beginning with the Psalm singing of the Pilgrims, we'll explore the contribution of the folk music tradition, the African influence, minstrelsy, Stephen Foster and the development of Tin Pan Alley.

THIS LAND IS YOUR LAND
Experience the roots of the folk music revival and its social impact through the voices of Woody Guthrie, Pete Seeger, Bob Dylan and others who spoke through their music during times of poverty, social unrest, unionization and the civil rights movement.

THE FOLK REVIVAL OF THE 60'S
In this decade of unrest folks song was an important vehicle for protest and social change. Through the voices of Woody Guthrie, Pete Seeger, Bob Dylan, Freedom Riders and others who followed, explore how music was a rallying cry, expressing and bringing together a common voice through times of poverty, social unrest, unionization, the civil rights movement and an unpopular war.